Who is Mary Sue Wilkinson and how can she help you?
Hi there!
I'm Mary Sue. I grew up in Iowa in a musical family and I've been singing as long as I can remember. I got my first guitar when I was 12 years old. My mom saved up green stamps to buy it for me. (Thanks mom!) That's me playing it for the Miss Neighborhood Contest in my backyard back in the 60's.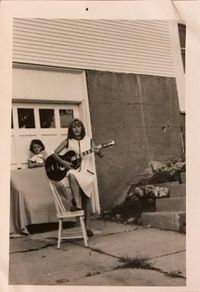 I'm the founder of Singing Heart to Heart and the Young at Heart Music Program.
My passion for singing with elders started when I sang for my father-in-law who had dementia. He had lost all language but when I sang the hymns he knew and loved, he could sing every word. Perfect pitch. He even added harmony.
I quickly learned what research is now documenting. Music is a powerful tool to help us connect, find joy and spark memories. Especially for people living with dementia. I've seen this first hand. I lead over 400 singing and music experiences for seniors each year.
I'm a career educator, a certified music teacher, an experienced speaker and trainer and a professional musician. I'm also the author of Songs You Know by Heart: A Simple Guide for Using Music in Dementia Care. Teepa Snow endorses my book and my work.
So that's who I am. Who are you?  
Are you a family member or a friend of an older adult? Are you a care partner for someone living with dementia? Are you a manager of a senior living community or a Life Enrichment professional? Are you a CNA or a nurse or a home health aide? 
I am passionate about helping YOU learn how to share music. With the resources on this website, my blog, my videos and my book (which comes with 18 songs to download) I can show you how easy it is to share music with your family members or the people you care for.
Together, let's harness the power of music to connect, bring joy and spark memories. 
Musically yours,
Mary Sue
P.S. I'm also a mom to Jesse, a mother-in-law to Karla and a grandma to Leon and Arthur. I live in Traverse City, MI.
Check out the video below to learn more about my story and why I'm so passionate about using music to connect with people.